I started playing World of Warcraft in 2007 after a friend mentioned the game to me and the 10 day trial of it. Naturally I was hooked and loved the game, but only a few minutes into the game I was already have interesting experiences.
I created my level 1 Druid Night Elf named Veroicone which was originally on the Drenden US server. While questing and killing boars the friend that got me into WoW was explaining different things and was even leveling a toon with me. At one point he told me about emotes. That I can /cry, /dance, /cheer, etc. So naturally I had to /dance and he also told me for some reason you can put your toons in their underwear. So of course I did that too while /dancing. Next thing I know I am surrounded by low level night elves all naked and all dancing.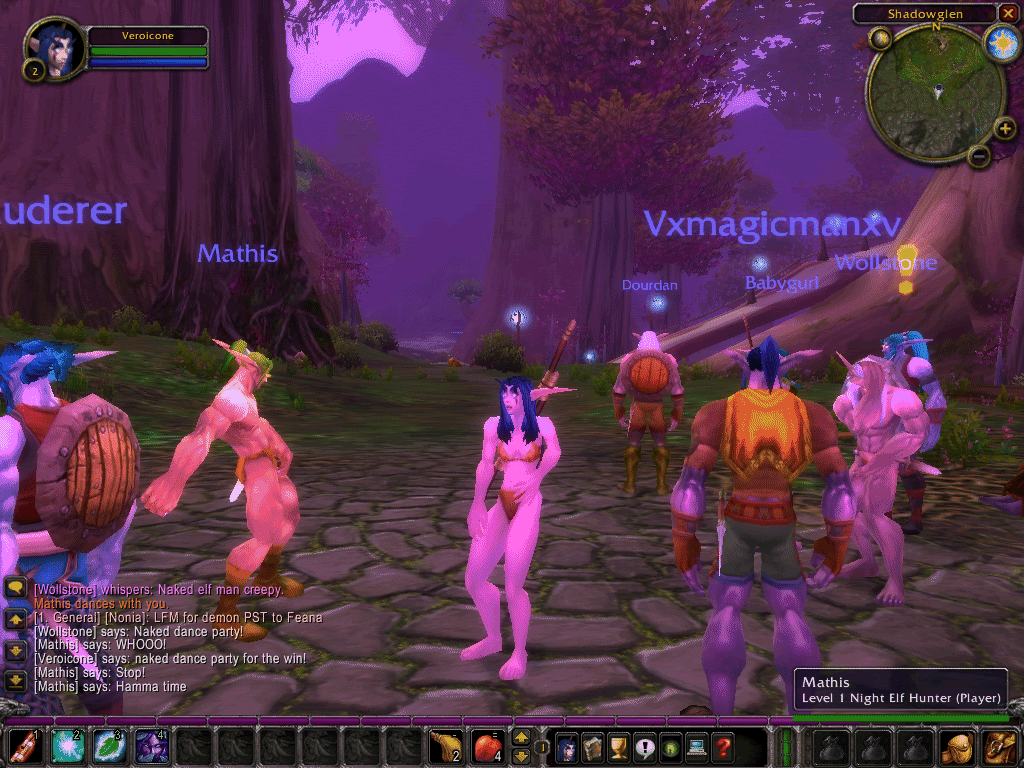 I thought it was the funniest thing ever. And as you can see, I learned how to take a screenshot that day too
That happened the DAY I started playing WoW and from that point on WoW has been a game I have enjoyed greatly
I will never forget that first day haha.
On an unrelated note my desktop is broken and keeps giving me a "boot manager is missing" error and I don't know how to fix it (if you do let me know!) so until then the only time I can play WoW is when I have access to my boyfriend's very shiny 27" iMac. Which is totally fine cos his computer can play WoW on ultra with 0 lag
And once Mass Effect 3 comes out for the xbox in a few days, I'll have plenty of access to the desktop haha. (8916 views)